You must be 18+ to view this content
Chitinous Carnival may contain content you must be 18+ to view.
Are you 18 years of age or older?
Enter a carnival like no other. Crawl the attractions, and win prizes. Everyone is sure to take home something!
Chitinous Carnival is an in-development fetish horror game centered around urethral play, infestation/parasitism, and other fetishes. Explore a mysterious carnival as you try to keep your sanity. Or, maybe you are looking to lose it?
I'm currently working on expanding the game with new parasites and games to play. If you like CC and would like to help fund development, consider supporting me here on itch, or on Patreon for extra perks.
Web build runs in Firefox and Chrome-based browsers. Due to technical issues with loading, the web build has been disabled until future notice.
Download
Temporarily Turning off Web Build Nov 29, 2021
New Chitinous Carnival Content Coming Soon Jul 05, 2021
Just a Few Small Things Mar 19, 2021
Chitinous Carnival Demo Released! Mar 01, 2021
If you like my work and would like to show support, Then join my Patreon! And enjoy access to early build, weekly devlogs, and more!
Yo yo, it's here a new release of Chitinous Carnival. The first thing I want to highlight is the save system. The save system will allow you to easily jump to sections you'd like to revisit. You can even load a save from the main menu. Currently, the save menu is very much "the bare minimum". However, the next update will bring the ability to overwrite and delete saves within the game.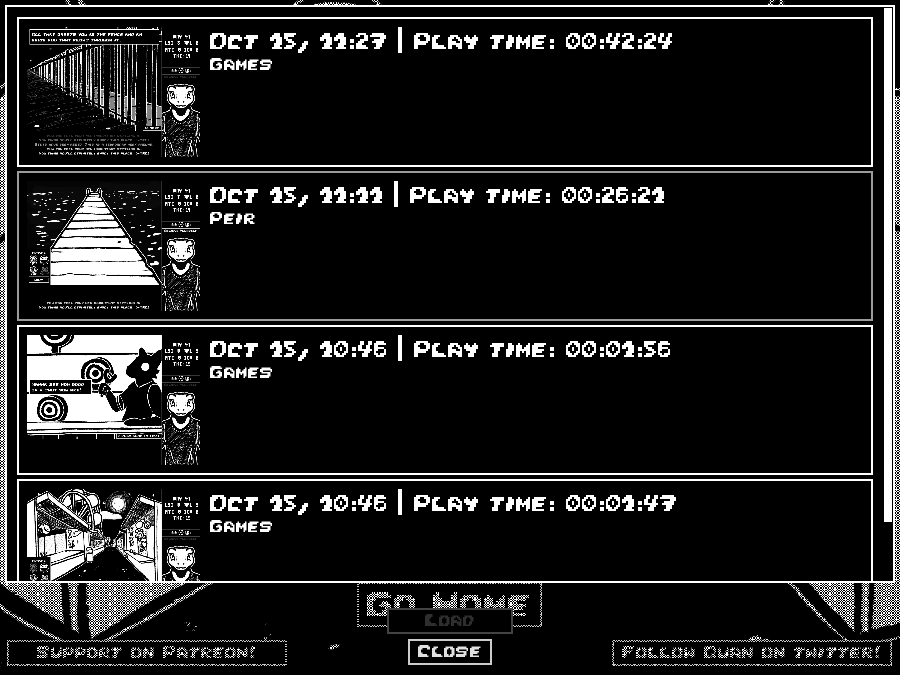 Additionally, this update adds the final section to the introduction. This sequence is played after completing the funhouse. It replaces the message from me after completing that attraction. Furthermore, this sequence introductions a character you'll see throughout the game.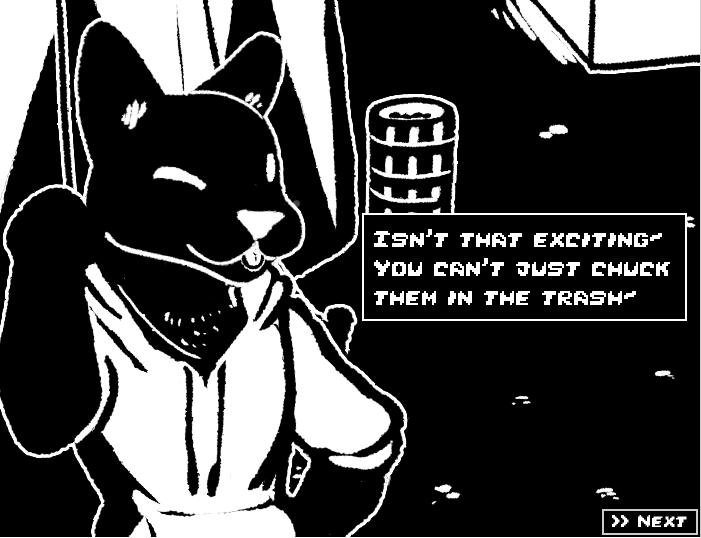 Next, this build introduces a basic parasite system. This system lets you view how your parasites are developing. Additionally, parasites will start to affect your LUST state as you explore the carnival. The effect increases with the duration you've had them. Moreover, this also brings the ability to relieve yourself. The option becomes enabled after your LUST is greater than four and can trigger two new scenes depending on what you are infested with. For now, this system uses static images. However, I'm planning on implementing a new system that can handle parasites more dynamically. The reason for this is to support multiple parasites to the same body part.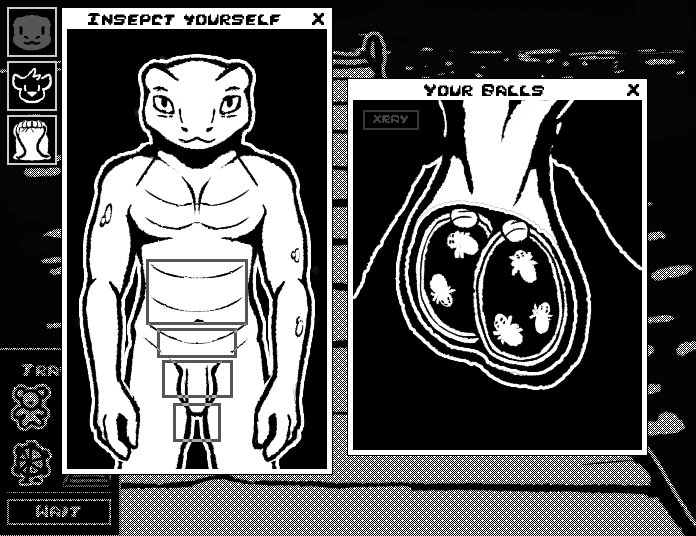 Finally, I've implemented a scene for one of the parasite prizes in Chitinous Carnival. This prize can be won from the Quick Shot minigame when you score between 30-60 points. When you open your inventory, you'll have the option to inspect a prize. Inspecting the Bag-O-Bugs when you've gone down the corruption paths will lead to the new scenes. For, now this is the only way to activate these items. However, in a future update, these items will activate themselves.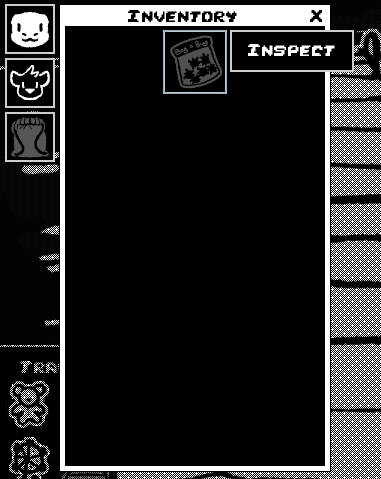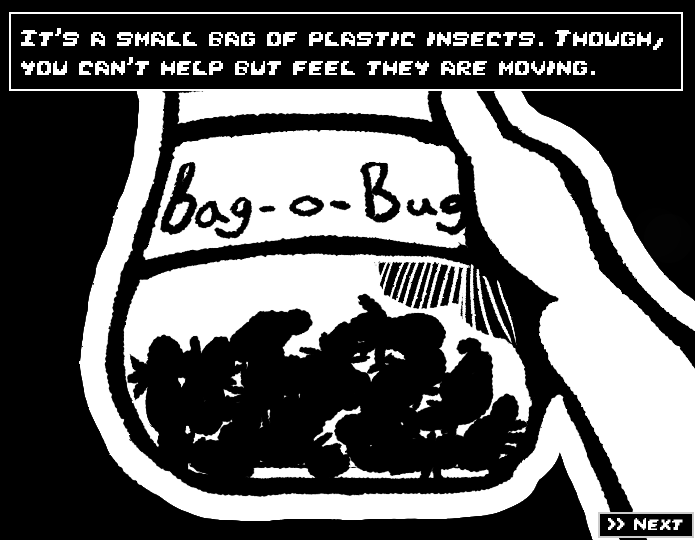 I think that covers everything in this update. I still have more work ahead of me to do on the underlying systems. But, working on new content should be easier from this point onwards. Additionally, I'd like to thank everyone that has been supporting me financially so far. This has basically been my full-time job. Job searching has been less than a fruitless process so far.
— Quan Zillan
Files
This game is free but the developer accepts
your support by letting you pay what you think is fair for the
game.
No thanks, just take me to the downloads
Windows 64 Free Build
Windows 32 Free Build
Linux Free Build
Mac Free Build
Android Free Build
Windows 64 Support Build at $5.00 USD
Windows 32 Supporter Build at $5.00 USD
Linux Supporter Build at $5.00 USD
Mac Supporter Build at $5.00 USD
Android Supporter Build at $5.00 USD
Support the developer with an additional contribution
Your email address — Your payment confirmation will be sent here
Billing address
Due to 2015 VAT MOSS regulations for EU this seller requires evidence of buyer location for purchases.
Please provide your billing address to continue.
Please correct the highlighted fields
Street line 1
Street line 2
Confirm payment
Sorry, we can't accept your purchase at this time due to the updated 2015 VAT regulations. Your billing address does not match your purchase location (NL).
There was a problem with your purchase:
If the problem persists, please contact itch.io support with all the relevant details.
Tax: (%)
An ABDL Game!
A googirl saves your life then turns it sticky.
Play in browser
It's really bouncy
An Erotic Horror Visual Novel exploring the psyche of a haunted man and his depraved past.
An adults only carnival crawling with creative attractions
yandere near you!
Short point and click Horror vn about a girl trapped in an abnormal corridor full of doors.
An adorably brutal horror VN where everyone is crazy in love~
A heartwarming RPG about Bubbles and dreams.
A massive free-to-play comedy dating sim!
A short horror game about a kid who lives alone
donate blood for vampires! a visual novel.
A charming waiter confronts you at a humble diner.
Glory hole simulator.
A small RPGMaker game exploring the life of a lost being from another planet.
v0.19 public release. v0.19.5 patreon exclusive (paid).
A Game about a dishonest girl on a Couch
a horror survey game
Time keeps on taking– Even from the dead
Some loser meets himself.
(18+) A game where you have some one with a fellow trainer.
A short psychological horror game
(inside a game)
World first full-fledged real-time MMORPG for your browser
​Prepare yourself for an interactive sensory journey unlike anything you've ever played before.
a magical girl battle (?) game & visual novel.